Ice Cream Excavation with Chocolate Dinosaur Fossils
Hey-o! It is the last day of Dinosaur week and for my Dinosaur Recipe I've got an awesome Ice Cream Excavation with Chocolate Dinosaur Fossils !
I am in LOVE with this simple, healthy treat…oh and my kids are too! This banana ice cream based dessert is such an easy way to "cook" with kids in the kitchen and make something truly unique! It would make a perfect treat for a dinosaur themed birthday too! Give it a try once before the big day to see how big of a batch you will need. (Affiliate links are included.)
We have made the super simple one-ingredient banana ice cream that is all over pinterest and the kids just gobble it up. My daughter requests it regularly. For this dinosaur recipe though, I wanted a way to make it brown. I went with this similar banana fudgesicle recipe from Mama.Papa.Bubba. Healthy and delicious?! Perfect!
To make our healthy banana ice cream into a super fun dino dig treat, we needed to add some dinosaur bones! I found this awesome dinosaur fossil silicone candy mold on Amazon and decided it would be perfect to make some white chocolate dinosaur bones! If you want another dinosaur bones recipe that doesn't use a mold, you could try this candy bone snack from Fogs and Snails and Puppy Dog Tails. I think this idea would also be hilarious for a Star Wars Birthday Party using a Han Solo Mold! If you ever try it you have to send me a photo!
How to Make an Ice Cream Excavation with Dinosaur Fossils
Prep your bananas the day before by slicing each one into 1-2 inch chunks and laying them out flat on a sheet pan or other freezer safe container (we actually just tossed ours into a plastic storage container and they were fine even though they stuck together a little). I suggest making a bigger batch for a group, so use 4-6 bananas, adjusting the amount of cocoa powder to your taste. Place in the freezer until frozen.
The next day, melt some White Chocolate Melts or Baker's White Chocolate in the microwave according to the directions until smooth. Carefully pour the chocolate into the mold, using a spatula to scrap as much as possible into the bone shapes. Set it aside to harden. (You may wish to make more than one set of bones if you have more kids but for our group of three kids one was more than enough.)
Next prepare the banana fudgesicle ice cream (link will take you right to the recipe). We did it just the way she did but without the optional Maple Syrup, that is up to you. Instead of using ice pop molds, line a freezer safe dish (one that will hold the volume of bananas that you blended) with cling wrap so that it hangs over the edges of the dish.
Remove the chocolate bones from the mold and arrange them face down in the dish as desired. Cover with ice cream and freeze overnight, until ready to eat.
When you are ready to eat, use the saran wrap to lift the ice cream out of the dish and invert onto a plate. Carefully remove the saran wrap. Give each child a spoon and you are ready for your delicious dinosaur fossil excavation!!
If you are hosting a dinosaur themed birthday party or playdate, pair this dinosaur excavation dessert with our DIY Dinosaur Hat and DIY Dinosaur Stilts, or any of the dinosaur ideas for kids from the series!
Dinosaur Recipes
It is the last day of Play, Craft and Learn with Dinosaurs and now that we've covered you from head to toe, it's time to address your tummy with Dinosaur Recipes! Click through to see what the other bloggers have shared and see all the posts from the series on the Pinterest board!
Dinosaur Fossil Cookies from Craftulate
Dinosaur Footprint Cookies from FSPDT
Rice Crispie Dinosaurs from Glittering Muffins
Snack-saurus from Makeovers & Motherhood
Dinosaur Egg Rice Krispie Treats from Mess for Less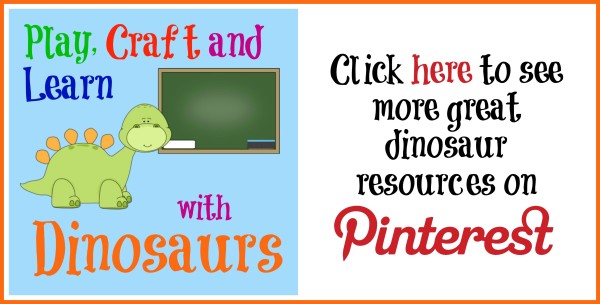 Looking for more cool ideas to keep the kids busy this summer?! Check out the ULTIMATE Back Yard Summer Camp eBook! This mom-designed, kid approved eBook includes all the ideas, tutorials and guides you need to throw your very own summer camp! Learn more here!