Dinosaur Activities for Preschoolers – DIY Dinosaur Feet Stilts
Hello from Dinosaur Week! Today I have a fun Gross Motor Skills Activity as I join up with Craftulate's Play, Craft and Learn with Dinosaurs Series! These DIY Dinosaur Stilts for Kids are super easy and lots of roaring, stomping fun!
When thinking about dinosaurs, one of the first things that came to mind was a loud dinosaur STOMP with a huge foot! I thought it would be fun to make some old school stilts into cool looking dinosaur feet!
You could totally make these DIY stilts out of coffee cans or another sturdy type of container but we had these green wipes containers on hand and I thought they'd be just the thing!
Dinosaur Stilts for Kids Materials
Two wipes containers or coffee cans
Yarn, string or twine
White craft foam or construction paper
Scissors
Glue
Dinosaur Stilts for Kids Tutorial
1. Prep the wipes containers: Cut the lid off your wipes containers and use the edge of the scissors to rough up the edge where it was cut. This takes away the sharp edge left from cutting the lid off. Next use one blade of pointed scissors to slowly poke 6 holes in the bottom of the wipes box as shown. (The bottom set of holes are in about the center of the each side, then the other two sets of holes are each a half inch up from the ones below them.)
2. Lace your yarn through the holes to make foot straps. You can also make long handle strings like the old school tin can stilts if desired. Remember to leave enough slack for your child's foot to fit before you tie it.
3. Cut eight 1 inch triangles from the craft foam and glue four onto the front of each wipes container.
That's it!
You're ready to use those Dinosaur Feet Stilts for all kinds of fun!
Note- Miss Three had a lot of fun roaring and stomping around the backyard but she did trip a couple times. As with this and any DIY activity- and any set of stilts for that matter- please supervise your child while using these items and use your own discretion as to whether or not he or she can use them without a hand to hold.
Dinosaur Activities for Preschoolers
Try these fun ways to play:
Dino Letter Stomp- Using sidewalk chalk, write letters in random order all around the sidewalk. Call our letters for your dino to STOMP! You can use this for letters, shapes, colors, site words or even math problems!
Dinosaur Exercises- How does a dinosaur exercise? Have a fun fitness session with dino knee lifts, toe touches, side bends and any other basic movements.
Dino Says- Play a game of Simon Says on Stilts, changing the words to Dino Says.
Dinosaur Band- With a group of kids, ask each child to pretend to play an instrument and march around in a circle pretending to be a dinosaur band!
Play, Craft and Learn with Dinosaurs Series
This post is part of Craftulate's Play, Craft and Learn with Dinosaurs series- a week full of super fun dinosaur activities! Today was the day for Gross Motor Skills Play Activities! Here are the fun ideas from the other participating bloggers and be sure to check out the group pinterest board to follow along with all the fun!
Dinosaur Obstacle Course from Craftulate
Dinosaur Scavenger Hunt from FSPDT
Beginning Letter Sound Dinosaur Tracks from Glittering Muffins
Dinosaur Toss from Mess for Less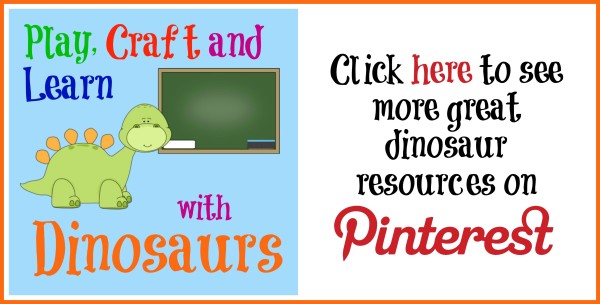 Looking for more cool ideas to keep the kids busy this summer?! Check out the ULTIMATE Back Yard Summer Camp eBook! This mom-designed, kid approved eBook includes all the ideas, tutorials and guides you need to throw your very own summer camp! Learn more here!