Dinosaur Crafts for Kids: DIY Dinosaur Hat
Welcome back to Dino Week! Today is the Dinosaur Crafts Day of the Play, Craft and Learn with Dinosaurs Series! For our super fun kid-made dinosaur crafts, we added to our arsenal of preschooler cutting practice projects and made these awesome DIY Dinosaur hats for kids!
Okay technically Miss Almost Four made one hat and I made the other for little brother. I love that this craft uses fabric as a cutting material and gives my preschooler some practice with the scissors…although we do a lot of cutting practice she still needs to work on it. And cutting fabric seems so special when you are a kid- not to mention making a permanent article of clothing! I will take any opportunity I get to use a current interest to sneak in some scissors time! (Affiliate links are included in this post.)
This hat is actually based on Mister One's super cool Dinosaur Jacket, which we got last season on mega clearance. (The chain store where I bought it no longer sells them but I found a few similar ones on Amazon from Crazyheads, Kidorable, Western Chief and a girls sweatshirt from SoJealous.) You can see big sister wearing it here in our Dinosaur Stilts photo.
Mister One is growing like a weed and I knew this jacket wouldn't fit him forever. This hat is adjustable- and in fact is a dot big on him now- so as soon as he grows out of the jacket, this hat will be juuust right!
If you'd like to make your own Dinosaur hat, check out the tutorial below. This can be made with or without your child. If you make it together please provide full supervision and use your discretion when it comes to using scissors and glue guns! We no not have a low temperature glue gun like a lot of parents and teachers use with kids so I did the gluing on this project.
DIY Dinosaur Hat Materials:
Blank Adjustable Baseball Hat in your choice of color
White and Black Felt (Stiffened Felt would be best but all I had was standard felt)
Scissors
Marker
Glue Gun & Glue sticks
Additional Colored Felt (optional if you'd like to add spots on the sides)
DIY Dinosaur Hat Tutorial:
1. Prep the eyes and spikes: Draw out 2 eyes (ours are about  2 inches tall by 1 inch wide, but you can decide how big you want them) and 3-4 equilateral triangles (about 1 1/2 inches tall by 1 1/2 inches wide) from the white felt. Draw and cut out 2 pupils from the black felt. Glue the pupils where you want them.
2. Prep the teeth: lay your hat down on your white felt and roughly cut out a U shape of felt that will fit under the bill and stick out about an inch. Once you have the strip the size you want it, snip off triangles to make jagged teeth.
3. Attach the eyes and spikes: Glue the eyes onto the round part of the hat, on either side of the center of the bill. Grab your first spike, place glue on the center seam of the hat where you want the spike, then carefully press one edge of the spike into the glue, holding in place until the glue dries. Repeat for each spike. Allow glue to set.
4. Attach teeth: Turn your hat upside down and arrange the teeth right where you want them. One section at a time, lift the section of the teeth slightly off the hat and lay a line of glue down on the hat where the felt goes. Carefully press the felt teeth onto the glue on the hat. Repeat for the other two sections of the teeth. Allow glue to dry.
Ta-da! You're ready for some roaring, stomping fun! I realized the teeth on the sides were folded over in the photo below, but they do have a full set of teeth! If you need a little more dino fun, pair this hat with some super fun Dinosaur Feet Stilts!
Dinosaur Crafts for Kids:
Today is the Crafts Day of Craftulate's Play, Craft and Learn with Dinosaurs Series. Come check out what the other participating blogs have shared and follow along with all the ideas on the pinterest board by clicking the box below!
Dinosaur Arts & Crafts from Craftulate
Dinosaur Paintings from FSPDT
Upcycled Dinosaur Bracelet from Glittering Muffins
DIY Aged Artwork for Dinosaur Nursery from Makeovers and Motherhood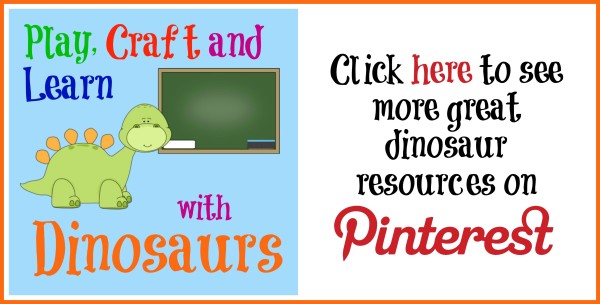 Looking for more cool ideas to keep the kids busy this summer?! Check out the ULTIMATE Back Yard Summer Camp eBook! This mom-designed, kid approved eBook includes all the ideas, tutorials and guides you need to throw your very own summer camp! Learn more here!