Easy, Drop-Off Mother's Day Gift Ideas – [Plus Free Printable Gift Tags]
Today I'm sharing some Mom Bombs and other ideas for Drop-Off Mother's Day Gifts. These are easy gifts that show someone you're thinking of them, and they are small enough to drop off of someone's front door step. I call them Mom Bombs but I also have some classic Mother's Day Gift quotes for various gift ideas. My referral partner shopping links are used in this post as well.
This year, more than ever, people are looking for ways to spread kindness and show their love from afar.
Whether it is neighbors doing something kind for each other, family members stopping by to wave hello or friends showing up to put a smile on your face, I just keep seeing all these great ways to spread joy in these crazy times.
Mother's Day is often a chance to get the family together to honor the special moms in your life. This year it is going to be a little different. But that doesn't mean we can't find some creative ways to honor the moms that make up our village.
Below is a list of easy gift ideas that will easily fit into a gift bag, or can otherwise be delivered sweetly to someone's front porch.
I also have a set of free printable Mother's Day Gift Tags. I made each page a set of 4 because a lot of people are looking for ways to drop off little gifts for several moms- neighbors, aunts, grandmas- in addition to their own mom.
Free Printable Mother's Day Gift Tags
There are several designs of free printable Mother's Day Gift tags in the printable. Select the style you want and print the number of pages you want. Then you just cut them out and fold them in half. You can punch a whole in the corner to tie it to a gift, or leave it as a folded card. The inside will be blank, so personalize it with your own message.
If you need card message ideas, I've added a few little mother's day quotes to go along with the gift ideas below the photo.
For You:
Be sure to scroll down for the list of easy drop off Mother's Day Gifts Below. 
Get your copy of the Free Printable Mother's Day Gift Tags HERE. Click the text link, NOT on any big "down1oad" button, those are advertisements. 
Easy Mother's Day Gift Ideas & Mother's Day Quotes to Go With Them
These gift ideas can be picked up at the dollar store, from your favorite local business or someplace more fancy. You decide your budget and how many moms you want to surprise.
Photo Shoot
– Many local photographers have been organizing neighborhood porch photo shoots lately. With so many moms being the ones BEHIND the camera, this is the PERFECT Mother's Day Gift, and could easily be paired with a drop off picture frame for when the photo is ready. (Pro Tip:
Shutterfly app users get free prints every day
.) Here are a couple ideas for the gift tag.
Dear Mom, Get Ready for Your Close Up, Today, You're the Star!
Happy Mother's Day, Today Will Be One to Remember, Get Ready for a Mother's Day Photo!
Happy Mother's Day! For your gift we have one aim- to take a photo for this frame. Once it's filled, show one and all, they'll see the BEST mom of them all!
Candles
– Candles make a classic Mother's Day Gift, and this year especially, they make great gifts. The fit in a gift bag, they symbolize solidarity and strength, and they are honestly useful gifts. I love that you can choose a
Gorgeous, Upscale, One-of-a Kind Home Decor Candle
, or simply pick up her favorite scent at a store near you. Here are a few easy quotes to choose from for your gift tag.
Mothers are like candles, they light the way!
Thank you for always being the light of my life!
Dear mom, Here is a little gift to thank you for brightening my day, every day.
For you mom, for always sharing your warmth and light.
Flowers – Whether you order them from your local florist, order online or pick them yourself, flowers always brighten mom's day. And they are perfect for a front porch drop off. Here are a few catchy sayings you could add to your gift tag.
Mom, My love for you blooms more and more every day!
Beautiful blooms for a beautiful mom.
Mom You're like a flower- beautiful inside and out!
Mom You're like a flower- you make the world a beautiful place!
Chocolate – Indulge mom's sweet tooth with a tasty treat. This could be fun size candies, or specialty chocolate-dipped strawberries. As sweet treat for a sweet lady! Here are some punny ideas for your gift tag.
Happy Mother's Day Mom, I hope these make your day sweeter!
Dear Mom, I love you more than chocolate!
Mom, you melt my heart!
Moms are like chocolate- everyone loves you!
Mom it's time to TREAT YO' SELF! You deserve it!
More Gift Ideas Below the Image
Photo Gift
– Photos and
photo gifts
never get old. Whether you order a photo mug, gift or just pop your favorite photo into a nice frame, this gift will remind mom just how much she means to you. Here are some ideas for your Mother's Day Card to pair with it.
Behind every great family (or daughter or son) is a truly amazing mom!
To the world, you are a mother. To our family, you are the world!
Mom You're the Picture of the Perfect Mother!
Bath Bombs & Bath Gifts
– We all know moms could use a little relaxation and pampering for all that they do for us. Whether you give her some
DIY bath bombs
or her favorite fancy brand of bath accessories, pop them in a nice gift bag and drop them on the front porch. Here are some ideas for your card.
Mom, you're the BOMB!
Happy Mother's Day, Pamper yourself instead of us today!
Happy Mother's Day, Let Calgon Take You Away!
Cookies
– Whether you make your own decorated Mother's Day Cookies (HINT: These Homemade
Chewy Thin Mints
are AMAZE BALLS) or shop a local bakery, cookie decoration is a super fun way to express your love and affection this Mother's Day. Here are a few gift card ideas to pair with your cookie.
Dear Mom, Happy Mother's Day to one smart cookie. When it comes to being awesome, you're no rookie!
Happy Mother's Day! Moms are just like cookies- they're sweet treats that can't be beat!
Happy Mother's Day! Not everyone can have the BEST Mom in the world but we sure do. That's just how the cookie crumbles!
Fruit Bouquets – If you're looking for a sweet treat that is as nutritious as it is delicious, why not try a Fruit Bouquet? You can Order Fruit Bouquets to Be Delivered (they even have some for Same Day Delivery!), or try your hand at your own with a DIY Fruit Bouquet! Here are some fun gift card ideas.
Happy Mother's Day! Moms are just like fruit- Super sweet, hard to beat- and always good for you!
Dear Mom, Wishing you the SWEETEST Mother's Day Ever!
Every Sweet Mom Deserves a Sweet Treat!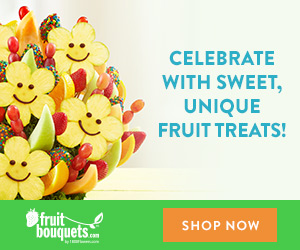 Wine or Wine Subscriptions
– For wine lover in the family, pick up a bottle of her favorite wine, or consider
Wine Tasting Subscriptions
. Gift cards or subscription cards make great drop-off Mother's Day Gifts. Here are some fun ideas for the gift tag.
Cheers to you Mom, you're the best!
Happy Mother's Day Mom! You're like a fine wine- you just get better every year!
Wishing you a very happy mother's day!
Pin it!